CASH AND Prize Giveaways YOU WON'T WANT TO MISS
We're famous for our absolutely astonishing giveaways, prizes and winnings. From chances to win $1,000,000 to a new car, Mount Airy always has the most exciting promotions. See player's club for further details on all promotions.
NEW MEMBER PROMOTION
Join the Mount Airy Casino Resort Player's Club and get $10 in free slot play for signing up!
*Must have valid photo ID and be 21 years of age or older.  Cannot be combined with any other free slot play offer, i.e. Bus Incentives.
Penny Rewards
Entire month of October
Earn 10X Earned Rewards when you play at a Penny Slot Machine.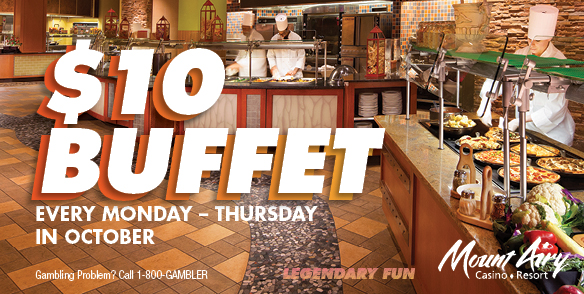 $10 BUFFET
Every Monday-Thursday in October
October Competitor Match
October 19 & 26 • 9am-10pm
Bring in your monthly slot offer from any PA/NJ casino from 9AM-10PM along with your Competitor's casino card and we will match it up to $300.
*One offer per day. Invite or earn 1,000 points. Print voucher from kiosk machine from 9AM-9:45PM to participate. Offer must be valid on date of redemption from matching casino.
Mohegan Giveaway
Friday, October 20 • 1pm-9pm
Drawing at 9:30pm
GET $15 A FREE T-SHIRT AND YOUR CHANCE AT $100 CASH!
Give us your Mohegan Sun PA Players Card and get $15 in Free Play, a free t-shirt, plus an entry into a drawing for $100 cash!
Penny Bonanza
Friday, October 20 • 4pm-8pm
GET 3 MAX BETS ON OUR HOTTEST PENNY MACHINES!
First 1,000 guests will get $10 in free spins and 3 max bet his on our newest penny machines!
FREE CAST IRON COOKWARE SET GIVEAWAY
October 21 & 28 • 10am-8pm
Invite or earn 1,500 points and swipe your Player's Club Card at any kiosk between 10AM-7:45PM to receive your pick-up time at the Promotions area. While supplies last.
Super Bonus Free Play
October 22 & 29
*Invited slot guests only. See Player's Club for details.
October Trip Multiplier
Every Wednesday in October
Receive more Free Play each day!
*For invited guests only. One offer per guest, per visit.
Monster Cash
Friday, October 27 • 2pm-10pm

Win Free Play, free food, a free gift or $250,000 cash!