GET WET ULTRA POOL
Come relax and indulge your senses at Get Wet Ultra Pool, our indoor/ outdoor pool & bar at Mount Airy Casino Resort. Get Wet Ultra Pool is a generously heated four-season pool experience featuring an underwater passageway allowing guests to swim continuously from indoors to outdoors between our two adjoining pools.
Starting at $20, day pass admission is based upon availability and may be closed at any time. Wristbands will be required at all times.
Grab a drink at our chic poolside bar and restaurant area while you bask in the sun or swim a few laps. The pool bar also offers an assortment of light dining options during the day.
Private luxury cabanas replete with day beds and televisions are available day and night for those looking for a more lavish lounge to share with friends and family. Please call in advance to make a reservation and inquire about cabana or daybed packages.
Come and Get Wet!
Hours of Operation:
Everyday – 10AM – 8PM
Pool Kitchen Hours:
11AM – 6PM
Pool Bar Hours:
10AM – 8PM
Pool Pass
$20*
*Starts at $20, based upon availability.
Hotel Guest:
Inclusive of Resort Fee
GET WET PACKAGE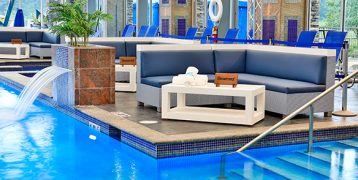 Includes:
• Complimentary Daybed or Cabana ($50 value)*
*Daybed holds up to 6 people. Daybed/Cabana based upon availability.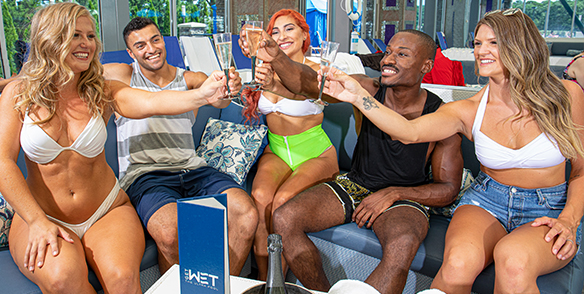 DAYBED & CABANA RENTALS
Comfortable poolside daybeds & cabanas. Come and Get Wet!
Daybed & Cabana Packages
Fruit tray, one appetizer from menu and 4 bottles of water.
Daybed Couch $50
Small Cabana $100
Large Cabana $150
Fruit tray, 2 appetizers from menu, 4 bottles of water and bucket of 5 beers.
Daybed Couch $75
Small Cabana $125
Large Cabana $175
Fruit tray, two appetizers from menu, 4 bottles of water, bucket of (5) beers and one bottle of designated liquor from menu.
Daybed Couch $125
Small Cabana $175
Large Cabana $225
*Call Guest Services at 1-877-682-4791 to reserve daybeds & cabanas. Daybeds and small cabanas hold up to 6 people, large cabanas hold up to 8 people. 18% Gratuity will apply to all packages