Player's Club Card – Mount Airy Rewards
Mount Airy Casino Resort's Rewards Program is your pass to rewards, discounts and perks.  On your next visit, stop by our Player's Club, or take a moment to sign up now and we will have your card waiting for you.  Each time you insert your card into a slot machine and play, or give it to a dealer when you are at a table, you will earn valuable tier points to unlock exclusive benefits. The more you play, the more you earn, the better the rewards.
Capitalize on your Mount Airy Rewards level throughout our casino and resort. A variety of benefits awaits, such as discounts at your favorite restaurant or a special rate for one of our luxurious hotel rooms.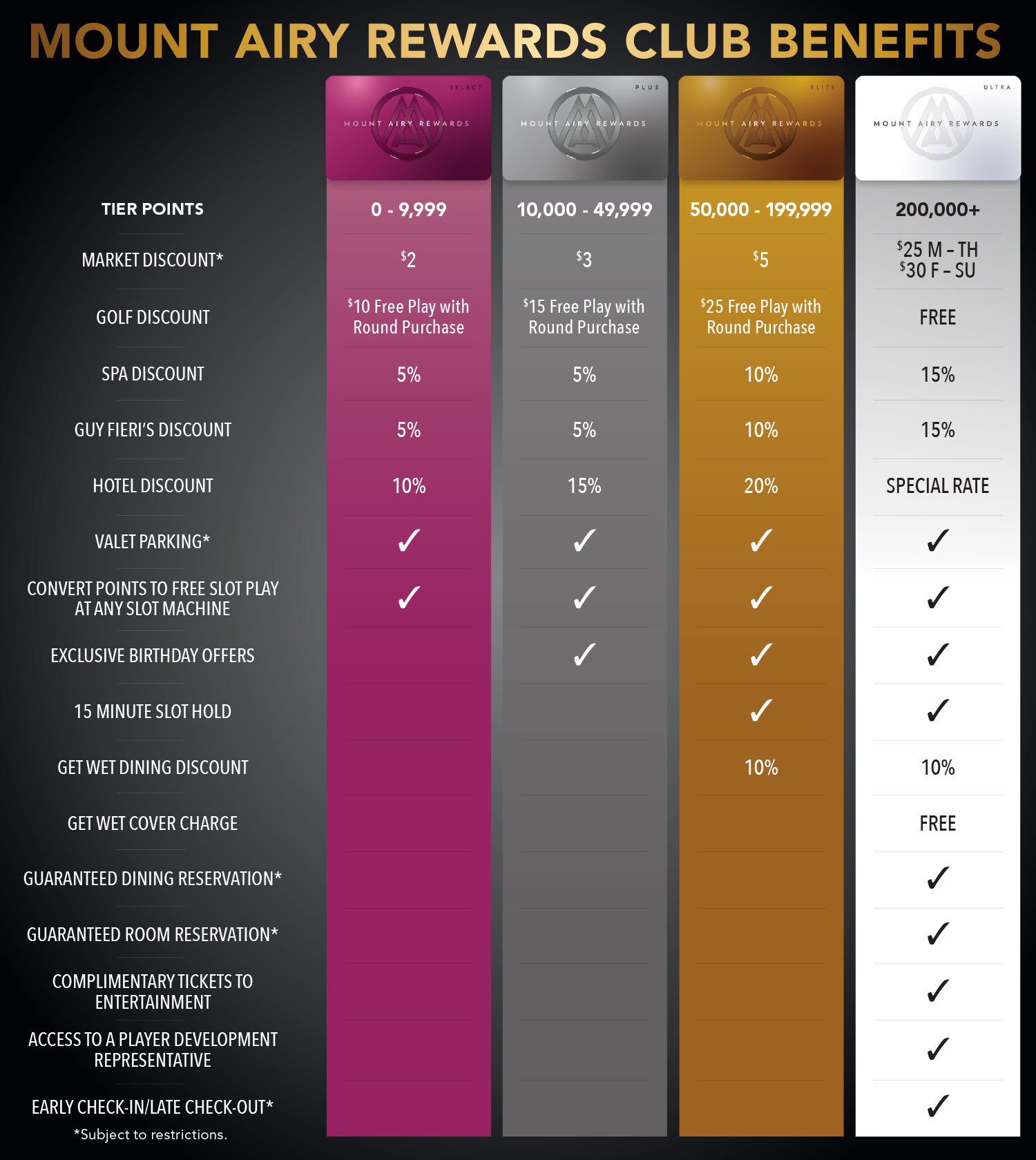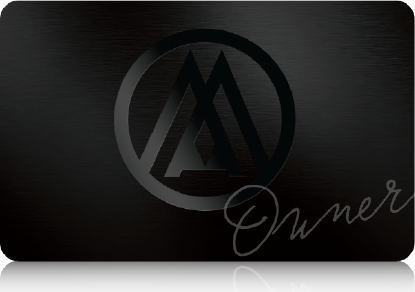 INTRODUCING THE EXCLUSIVE
OWNER CARD
Earn 1,000,000 points to reach OWNER status.
Benefits include everything the Ultra card has to offer,
plus FREE hotel rooms, FREE dining privileges,
FREE entertainment, FREE spa treatments,
invitations to special events, and more!*
Membership card personally signed by owner.
*Subject to restrictions. Membership is by invitation only.
Tier points accumulate during the 12-month program year May 1- April 30. Card status is valid in the month earned through the end of the following program year. Tier points must be re-earned each program year to maintain desired tier level.
Mount Airy Rewards expire 1 year from the date earned.
MORE WAYS TO WIN!

Earn Mount Airy Rewards Tier Points when you play your favorite slots, video poker and table games!
REWARDS EARNING RATES

SELECT – 1,000 TIER POINTS = $1
PLUS – 500 TIER POINTS = $1
ELITE – 300 TIER POINTS = $1
ULTRA – 250 TIER POINTS = $1
OWNER – 250 TIER POINTS = $1
REEL SLOTS

$1 coin in = 1 Tier/1 Point
VIDEO POKER
$2 coin in = 1 Tier/1 Point
TABLE GAMES
Tier Points are earned based on the length of time and average bet played
POKER
Every hour played earns you $1 in Mount Airy Rewards
FREQUENTLY ASKED QUESTIONS:
The Mount Airy Rewards program allows you to earn Rewards when you use your card and play at our slots or tables. Benefits include discounts, comps, free play and other perks dependent upon your Rewards level.
Mount Airy Rewards are redeemable credits earned while playing on our Property. They can be used for Free Slot Play, at our Restaurants, Hotel, Spa, Gift Shop, and Golf.
Tier Points are points earned by playing slots, video poker or table games when using your card. Tier Points accumulate during the 12-month program year May 1- April 30, and will maintain or upgrade your Mount Airy Rewards level.
Tier Points are earned by inserting your card into the slot machine or video poker machine you are playing as well as by giving your card to the dealer while playing at a table.
You can check your Tier Point balance in your monthly mailer (if qualified), at the Player's Club desk, at a kiosk or on the Mount Airy Mobile App.
---