With its close proximity to New York City, the Pocono Mountains region of northeast Pennsylvania has long served as Manhattan's playground. On any given weekend thousands of cars cross over the Delaware Water Gap into the Poconos, which attract more than 20 million visitors each year.
This love affair with the Poconos dates back to the 1950's when such stately resorts as Mount Airy Lodge welcomed honeymooners and other guests onto their grounds. The biggest acts from New York City performed in Mount Airy's Crystal Ball Room and the resort soon became "the place to go" in the Poconos. However, time took its toll on Mount Airy Lodge which eventually closed its doors in 2001, marking the end of a gilded era. Recognizing its value to the region, a developer purchased the iconic property in 2004 and Mount Airy Casino Resort opened three years later and soon gained status as the state's first AAA Four-Diamond casino resort.
Sitting on more than 1,000 acres of prime Pocono real estate, the pristine setting features one of the most picturesque golf courses in the east. Designed after Sports Illustrated "Best 18 holes in Golf," each hole models golf's most legendary holes from championship courses in America and is a true test of skill for every level of golfer that decides to take on the challenge. Numerous ponds, streams, hazards and subtle elevation changes add to the allure of this magnificent course.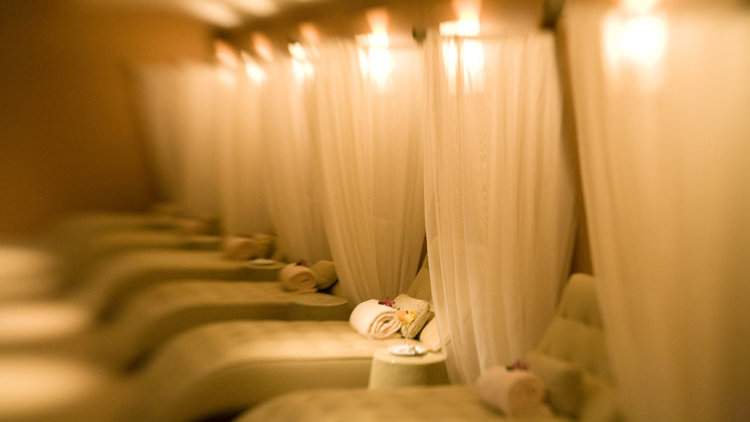 An exquisite spa offers such services as a seasonal dry wrap which includes a dry full body exfoliation using a seasonal lotion application. This treatment begins with a stimulating body exfoliation followed by nourishing oils which are incorporated with a relaxing lotion application. Guests are then wrapped with warm blankets to help hydrate the entire body. Face, scalp and foot acupressure is then performed, resulting in one of the most indulgent experiences available anywhere.
With its eye firmly on the future, the resort has announced a multi-million dollar expansion that will introduce 100 new guest rooms and a 16,000 square-foot ballroom and events center to be completed in spring 2019. When the resort unveils its expansion, it will introduce 100 new guest rooms, including four executive suites and five junior suites, putting the hotel's total room count at 288.
Elegant and contemporary, the guest room design concept will be inspired by the natural elements of the Poconos, maximizing dramatic views of the surrounding mountain scene. Rooms will feature warm, rich tones with vivid accent colors. Modern furniture will complement the spaces such as polished quartz desktops with waves of dark gray and black swirl recalling natural minerals. Plush fabrics with organic patterns will be accented with splashes of auburn reds, and custom curated artwork will incorporate earthy forest tones. Thoughtful design details will include bedside pendants in bronze metal finish and seeded antique glass shades. The spacious suites will showcase rich chocolate brown with subtle taupe, enhanced by vibrant blue and yellow accents. In addition to a spacious shower, suite bathrooms will feature freestanding tubs.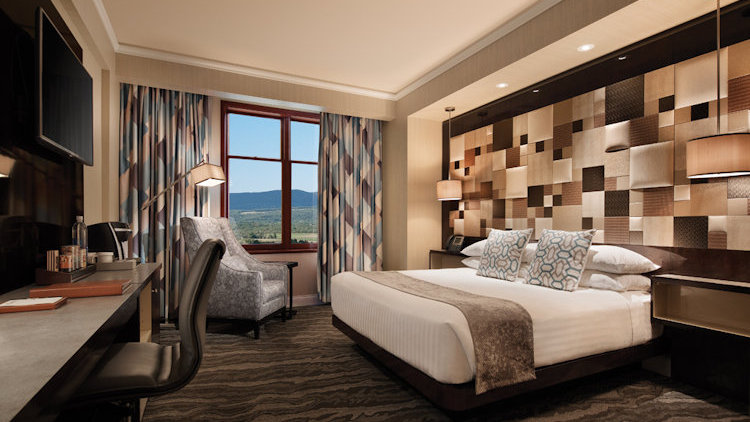 The resort recently constructed a covered, outdoor concert pavilion that has already brought in such popular acts as Brian Wilson of the Beach Boys who thrilled the packed house with hit after hit, receiving rousing standing ovations in the process. The venue, which accommodates over 2,000 guests, adds another layer of excitement to the resort and surely will attract hordes of concert goers from throughout the tri-state area.
Dining at the resort is an experience to be savored and guests can discover a variety of signature restaurant options, including Guy Fieri's Mt. Pocono Kitchen. Bistecca by Il Mulino, the resort's upscale restaurant, features scrumptious lobster bisque and such delectable entrees as a perfectly prepared grilled salmon with wild mushrooms and cherry peppers or a mouth watering prime New York Strip Steak. Affable servers are discreet yet attentive.
Of course, the majority of guests come to try their luck at various games of chance, and the dazzling casino is more than willing to oblige. With over 1,800 slot machines and 80 table games, the casino caters to novices and experts alike. Perfectly manicured, the casino's floors exude a class of elegant sophistication that one would expect from such a first-class property. Friendly banter permeates the casino as guests "double down" or cheer on the roller at a craps table. This is an inviting atmosphere that makes everyone feel welcomed.