A Peanut Butter & Jelly Hot Dog Exists & Here's Where You Can Get It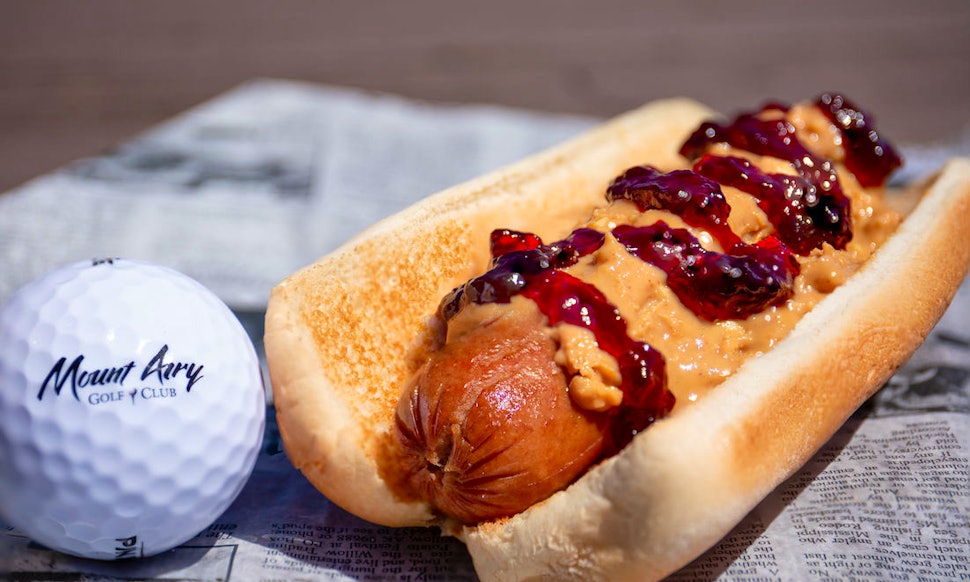 There's no doubt that hot dogs are best enjoyed in the summertime. There's just something about eating a hot dog fresh off the grill while sitting outside in the sunshine that is so much better than eating a hot dog any other time during the year. At this point in the summer, though, you might be getting sick of your regular hot dog with the same old toppings (you know, ketchup, mustard, maybe some sauerkraut). Why not mix a hot dog with one of your favorite classic sandwiches? Yes, it's true: a peanut butter and jelly hot dog exists, and we know exactly where you can find it.
Now, at first glance, a peanut butter and jelly hot dog might sound completely ridiculous. Peanut butter and jelly? Fantastic together. One of the best combinations of our time. Peanut butter and jelly on toasted bread? Perfection. It will never get old. But peanut butter and jelly on a hot dog? Yeah, it definitely doesn't seem like the best combo out there. Still, these are often the food mashups that end up being the best, so don't knock it until you try it!
So where can you get one to do just that? The very exclusive peanut butter and jelly hot dog can be found at Mount Airy Casino Resort in the Poconos in Pennsylvania. But this isn't something you'll find on the menu for just anyone to order. You have to be in the know in order to get this on your plate. Guests of Mount Airy Casino Resort who know about this special hot dog can ask for it at Mount Airy's Golf Clubhouse. The finished product is described as a "perfectly grilled hot dog slathered in grape jelly and chunky peanut butter."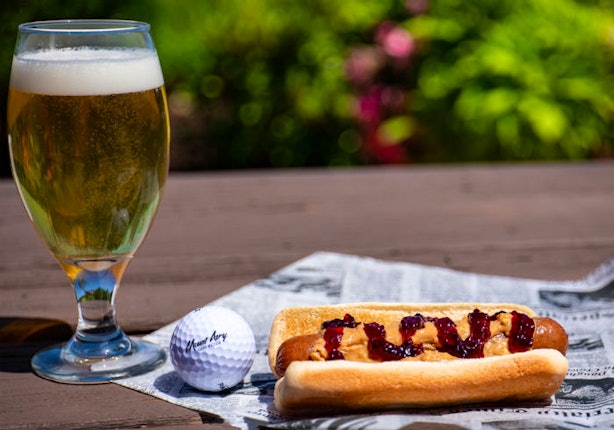 If you're wondering where the idea came from, it was actually thought up by Chris Zelenka, PGA Golf Professional. So, yes, you can say that this is a very special hot dog indeed.
Mount Airy Casino Resort is worth going to for this hot dog alone, honestly, but it's also a pretty fun place to stay. It's located in the Poconos mountain range in Pennsylvania, which is a convenient 90-minute drive from Manhattan, Philadelphia, and New Jersey. You can go just for this wacky food option, and there's also some great nightlife, as well as a summer stage concert series that has featured some epic headliners (like Alanis Morissette). There are also celebrity chef restaurants on on the grounds, like Guy Fieri's Mt Pocono Kitchen and Bistecca by Il Mulino. For those who want to hang out and relax, there's a spa and a lakefront 18-hole golf course.
Now that we've seen this peanut butter and jelly hot dog, though, we really can't think about anything else. We also can't stop thinking about other classic meals and hot dog combination possibilities. What about a macaroni and cheese hot dog? An egg sandwich hot dog? A Philly cheesesteak hot dog? The options seem pretty endless, and at this point, nothing is too out there. For now, though, we'll focus on the PB&J hot dog, and take it from there.
Comments are closed.