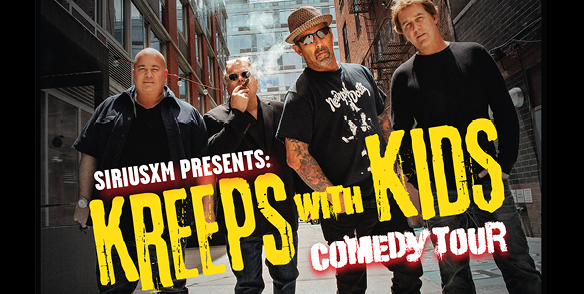 Kreeps With Kids
Friday, December 11
In the interest of safety at a time of uncertainty as the world navigates how best to be safe during the current Coronavirus outbreak, The Kreeps With Kids Comedy Tour, Mount Airy Casino & Resort, and the Sherman Theater have made the decision to not proceed with the scheduled performance on Saturday, March 21st.  Working with the artist, we have come up with a rescheduled date of FRIDAY, DECEMBER 11th. All tickets sold for the event will be honored at that time.
The artists, Mount Airy Casino & Resort, and the Sherman Theater wish all the best for the safety and health of everyone and we look forward to getting back for some fun and comedy at the Event Center at Mount Airy Casino & Resort this December!
---
Come see the Kreeps With Kids Comedy Tour ft. Robert Kelly, Ron Bennington, Rich Vos, and Jim Florentine at the Event Center at Mount Airy
Robert Kelly's comedy is rooted in his early days as a kid growing up in Boston. His dysfunctional family, repeat trips to juvie and his honest take on his own life and relationships make his comedy clever, abrasive and funny, yet refreshingly vulnerable.
Kelly has been winning over audiences for years while touring clubs, colleges and theatres. He was featured on the HBO's Tourgasm with Dane Cook and has been a highlight at Montreal's Just For Laughs Festival for the last four years.
Besides being a fixture on Comedy Central, Robert can be seen recurring as Louie CK's brother Robbie on the hit series Louie, and has just been cast as a series regular in Denis Leary's new half-hour comedy series, Sex&Drugs&Rock&Roll, that will debut on FX on April 6th 2015.
Kelly's has performed on Comics Anonymous, Comedy Central Presents, Premium Blend, Tough Crowd, The Carson Daly Show, The Jim Breuer Show. His acting credits include Louie, Inside Amy Schumer, NYC 22, Ghost Town, The Job, What Doesn't Kill You, Good Luck Chuck and the upcoming Judd Apatow film Trainwreck starring Amy Schumer.
He recently produced and starred in the short film "Cheat" which debuted at The Tribeca Film Festival. Shortly afterwards Simon and Schuster published a book he wrote based on the film. He currently hosts the top rated podcast "You Know What Dude?" that can be found on iTunes or riotcast.com.
RON BENNINGTON is a New York based radio talk show host who broadcasts internationally on SiriusXM satellite radio. In addition to hosting Bennington, through his two interview shows, "Ron Bennington Interviews" and "Unmasked," he conducts incisive critically acclaimed interviews about artistry, creativity and craft with artists and personalities who are renown in their fields.
Ron's guests on "Ron Bennington Interviews" have included game changers in every field—including brilliant film makers like Quentin Tarantino, legendary actors such as Jeff Bridges, groundbreaking musicians like Iggy Pop, as well as scientists, authors, journalists and creators of all kinds. "Unmasked" features hour long interviews with artists in the business of comedy, taped before a studio audience. Past guests have included great performers and writers like Joan Rivers, Dick Cavett, Wanda Sykes, Louis C.K., Richard Lewis, Jimmy Fallon and Bob Newhart.
Prior to coming to SiriusXM, Ron hosted shows on New York's WNEW and WFNY Free FM, WJFK in Washington DC, and a nationally syndicated show in Tampa, Florida. You can listen to Ron on SiriusXM's Raw Dog Comedy Hits weekdays from noon to 3 pm, and on the Indie Channel nightly from 9 pm to 10 pm.
Rich Vos is an American comedian and actor. He has over 100 television appearances including 4 Comedy Central Specials as well as HBO, Showtime, and Starz appearances. He produced and starred in an award winning comedy movie Women Aren't Funny alongside Bonnie McFarlane, Chris Rock, Rosie O'Donell and many more. He is a 2 time Academy Awards writer, a regular on Sirius XM radio and the cohost of the hit podcast, My Wife Hates Me that Paste Magazine named one of the best podcasts right now. He has also appeared on WTF with Marc Maron, the Joe Rogan podcast twice, Guys we F@%*@ed. He's been sober for over 32 years and good at golf for 20.
For nearly 25 years Jim Florentine has been making audiences around the world laugh across nearly every type of media. Jim has recorded six stand-up comedy albums and shot four full-length specials. On television Jim hosted 7 seasons of VH1 Classic's "That Metal Show" as well as lending his voice to the ground breaking "Crank Yankers". On radio Jim has been a regular on The Howard Stern show, the Opie & Anthony show and currently hosts his own program on Sirius XM. In addition Jim is a best selling author, world-renowned voice over talent and has been featured in the film's "Beer League" with Artie Lange and "Trainwreck" with Amy Schumer.
*Event is for all ages. Must be 21+ to drink with valid ID.