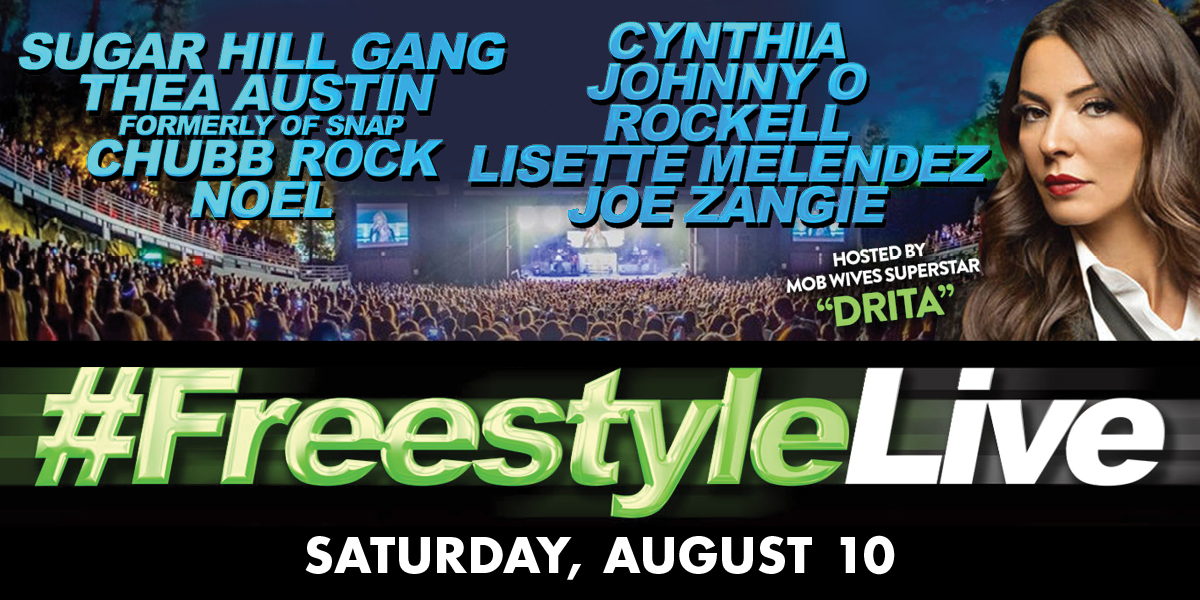 Mt airy's #FreestyleLive
Saturday, August 10
7PM DOORS AT 6PM • SUMMER STAGE
TICKETS $125 / $60 / $40
Sugarhill Gang
An early American hip hop trio. It was initially comprised of Wonder Mike, Big Bank Hank, and Master Gee. However, Kory-O later joined the group and as Master Gee's replacement. A few years later after multiple line-up changes, Big Bank Hank performed under the name the Original Sugarhill Gang with newer members Joey Robinson Jr., David Gunthorpe, Warren Moore and Derek Smalls portraying as Wonder Mike & Master Gee while as for the other two original members Michael Wright and Guy O'Brien performed under Rapper's Delight with new member Hendogg. After years of legal disputes Wonder Mike, Hendogg and Master Gee are currently performing under name Sugarhill Gang.
Snap!
Snap! evolved from Power Jam. After the tremendous success of "The Power", Snap! released their first album, "World Power", which revealed many other hits: "Ooops Up", "Cult Of Snap" and "Mary Had A Little Boy". The latter, a frenetic hip house/piano anthem, revealed to be a huge club hit and the direction taken by Snap! afterwards to follow that path was logical. The original lineup featured Luca Anzilotti, Michael Münzing, Penny Ford, and Turbo B., who appeared on the debut album "World Power".
Chubb Rock
Chubb Rock, born in Jamaica and raised in Brooklyn, is regarded as one of the East Coast's most dexterous rappers. A former National Merit Scholar, Chubb began his career in earnest after dropping out of high-post Brown University, where he was a pre-med student. So nicknamed because of his ample height and girth ("6 foot 4 and maybe a quarter of an inch bigger/than last year but still a unique figure" – from "Treat 'Em Right"), Chubb released his first album for Select records in 1988. Chubb Rock Featuring Howie Tee featured the underground hits, "Caught Up" and "DJ Innovator." 1989's And the Winner Is… earned Chubb Rock a lot more notice, and in the early '90s Chubb had a number of hit singles including "Ya Bad Chubbs," "Treat 'Em Right" and "Just the Two of Us."
Chubb's career was proving most prolific, and was largely responsible for starting the careers of the Trackmasterz — Poke and Red Hot Lover Tone. His dancers even put out an album under the name of the A-Teem titled A Hero Ain't Nothin' But a Sandwich. After the release of I Gotta Get Mine Yo in 1992, Chubb fell off the musical map until mounting a comeback with The Mind in 1998.
Noel
Noel Pagan, a Cuban-American born New Yorker, hit the ground running with the release of his knockdown dragout smash dance single, "Silent Morning," released in the first half of 1987. We had to wait until September of 1988 for his first album to be released in its entirety. Another hit to come off was "Like A Child," while songs like "Change," and "City Streets," among others, further demonstrated Noel's writing skills and vocal talent.
Cynthia
Cynthia began her singing career in 1987, shortly after sharing her desire to pursue music with her close friend and up-n-coming freestyle artist, Safire, who hooked her up with several auditions. As Cynthia's career continued to evolve into more of a "club music" direction, "Like A Star" was released in 1997.  "Like A Star" peaked at #28 on the Billboard Dance Music chart, partly due to the inclusion of Todd Terry remixes, further proving her club music direction was paying off. In 2014, Cynthia rediscovered her music passion.
Johnny O
Born in Brooklyn, New York. In 1988, Johnny O recorded which is today one of the most famous and played freestyle records around the world "Fantasy Girl," this platinum single which was just the beginning of his career started Johnny on a journey that today embodies several successful recorded hits around the world. His success has created an enormous phenomenon for freestyle sensation Johnny O, globally. To date Johnny has played in concerts with top acts; such as, Boys to Men and many others, he has also been seen on TV shows and many musical production videos, plus famous movie sets using his enormous talents in the acting field. To date Johnny has signed with a German label called ZYX Records and has recorded his latest and greatest album of his career.
Rockell
Rachel Alexandra Mercaldo was discovered in a bar while singing along with a recording of "Killing Me Softly With His Song," she was brought to the attention of producer Ewart A. Wilson, Jr., who helmed her 1996 debut single "I Fell In Love." After scoring a hit a year later with "In A Dream," Rockell issued her debut LP, "What Are You Lookin' At?", on Robbins Entertainment in 1998. The album included both prior singles as well as "Can't We Try," a duet with freestyle act Collage (4), which was also a hit.
Lisette Melendez
Lisette Melendez grew up in East Harlem where she still resides, and where she began to take an interest in singing at the age of 12. Both her mother and her aunt sang in church and in community theaters, inspiring Lisette to take a chance. Growing up with four other siblings in the "barrio", Lisette set herself apart from the dangers of inner city life. As a child, Lisette spent most of her time at home listening to cassettes and working on her singing skills.
Joe Zangie
Joe Zangie is commanding the attention of music lovers everywhere. If Joe reminds you of someone you used to know, don't be surprised. This South Jersey native has shared the stage with some of the nation's top music artists and performed for thousands of fans while touring with chart-topping artist, Rockell. In 2013, Joe Zangie and Rockell teamed with Fever Record's owner, Sal Abbatiello to book the "RocknJoe" show. Together, the 2 perform a set of freestyle music's biggest hits including; "In a Dream", "I'll Be Loving You" and Can't We Try".
*Rain or Shine. All Ages Welcome. Must be 21+ to drink with valid ID.