A Message to Our Guests
As part of the nationwide effort to prevent the spread of COVID-19 (coronavirus).
Player's Club Card – Instant Rewards
More Rewards!
Redeem your INSTANT REWARDS POINTS at your favorite places, for your favorite things, including FREE PLAY, at our RESTAURANTS, THE HOTEL, THE SPA, THE GIFT SHOP, FOR GOLF – practically anywhere at Mount Airy, for practically anything you want.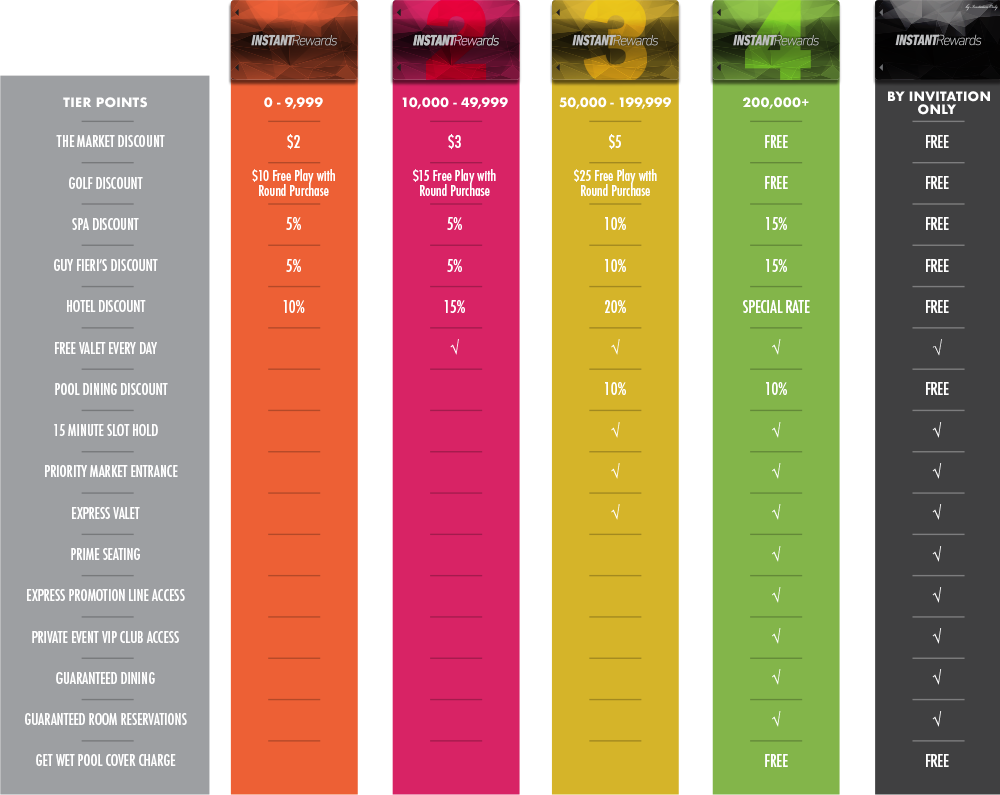 EARN INSTANT REWARDS POINTS
Earn INSTANT REWARDS POINTS when you play your favorite Slots and Tables!
• LEVEL 1 – 1,000 POINTS = $1
• LEVEL 2 – 500 POINTS = $1
• LEVEL 3 – 300 POINTS = $1
• LEVEL 4 – 250 POINTS = $1
• INVITATION ONLY – 250 POINTS = $1
• REEL: $1 coin in = 1 Tier/1 Point
• VIDEO POKER: $2 coin in = 1 Tier/1 Point
• Tier points are earned based on the length of time and average bet played
TIER LEVEL EARNING PERIOD
• Tier points accumulate during the 12-month program year January 10 – January 9
• Card status is valid in the month earned through the end of the following program year
• Tier points must be re-earned each program year to maintain desired tier level
TIER ACHIEVEMENT BONUS
Move up to Level 3 or 4 and get MORE Instant Rewards instantly
Level 3: 7,500 Instant Rewards Points
Level 4: 20,000 Instant Rewards Points
FREQUENTLY ASKED QUESTIONS:
Tier points will be handled in a fair manner with consideration to days closed. Tier status levels will be adjusted taking into account the shutdown period.
When you play with your Instant Rewards card, you'll earn points or Instant Rewards that can be used for meals, discounts and other on-property amenities as well as being redeemable for Free Play. You'll also be earning Tier Points towards a higher card level which provides increased benefits, rewards and recognition.
It's easy! When you play slots, video poker or table games when using your card, you accumulate Tier Points. The Tier Points accumulate for a year, from January 10 – January 9. Tier Points are used to maintain or upgrade your Tier Card level.
Every $1 in coins earns you 1 Tier Point. Every $2 in coins on Video Poker earns you 1 Tier Point. For table games customers, Tier Points are earned based on their length of time and average bet.
In a 12-month period from January 10 – January 9 of each year, simply accumulate 10,000 Tier Points for Level 2; 50,000 Tier Points for Level 3; 200,000 Tier Points for Level 4 and the By Invitation Only tier requires an invitation from the Vice President of Marketing. For those customers playing table games, it's based on their average bet and length of play.
Being a Level 3 or 4 cardholder gets you many exclusive benefits such as express VIP lines, preferred parking, discounts and more.
Tier Points are not redeemable for any type of reward or complimentary. Each tier level is associated with its own set of special benefits and rewards.
You can check your Tier Point balance in your monthly mailer (if qualified) or at the Player's Club desk, at a kiosk or on the Mount Airy Mobile App.
Level 1, 2, 3, 4 and By Invitation Only cards expire so that we can make sure that members are not taking advantage of benefits that they no longer qualify to receive based on their accumulation of Tier Points during the previous year. Placing expiration dates on the cards ensures that we are offering our best benefits to those Instant Rewards members who earned it.
Instant rewards are the points earned from slot, table play and any purchase made within the casino. They can be used for either Free Slot Play or purchases anywhere on the property.
The Instant Rewards program is different than the offers you receive in the mail. While you play on your card on property you'll earn points for Free play or comps as well as Tier Points to move up through tier levels. The direct mail offers you receive from us are also based on your carded play but are continuously changing based on marketing decisions.
---